Marketers and business owners always seem to be ahead of everyone else — they're the first ones to think of winter holidays, Valentine's Day…and Easter eggs and bunnies.
You guessed it — it's time to get serious about your Easter marketing campaign. With millions of people socially distancing and spending more time on social media than ever before, you really need to stand out from the crowd. This year, Easter will be all about engaging promotions, staying top of mind with customers, and driving sales. Are you ready?
Last Easter was a completely new experience for all of us. With sudden lockdowns, business closures, and social distancing, many brands didn't know how to communicate with their existing and potential customers. Everyone was under pressure to drive sales, but nobody knew how to do it. The uncertainty caused so much stress that many brands ghosted their online communities and disappeared for weeks, and in some cases, even months.
But thankfully, we all know by now that staying in touch with your audience is the key to maintaining customer relationships. And that's yet another reason your business should look to run interactive Easter campaigns this year.
But let's start from the beginning. Not all of your customers are big on Easter, yet everyone is likely to greet online promotions with open arms — as long as they're all about prizes, having fun, and bringing relief to currently vulnerable budgets.
I'm about to take you through some novel ways of generating engagement and touching base with your online community this Easter while generating leads in the process! So let's get started!
1. Engage Customers with Virtual Egg Hunts 
Unofficially, the Easter weekend marks the start of spring in the northern hemisphere: the arrival of long sunny days is all we look forward to in winter. Easter egg hunts must be the most popular Easter family tradition and it's almost as much fun as unwrapping Christmas gifts from Santa. Pulling off a classic egg hunt like a pro takes practice — unless you decide to do it online.
Cadbury's white crème egg hunt has become an inseparable part of Easter in the UK, with thousands of people interacting with the confectionery brand every year. And it's not actually chocolate that they're after — attractive incentives are what drives enormous numbers of participants to Cadbury promotions. And as you can imagine users don't mind leaving their contact details for a chance to win £10,000!
How about doing something similar but this time for your audience, with a prize your customers will love?
Gamified promotions leave mostly positive impressions — they're interactive, engaging, and most importantly fun. Some interactive Easter egg hunt applications allow you to fully customize your digital Easter egg hunt so that you can expose users to your corporate image and reinforce brand recall, while they're having fun.
In the following example, you can see how one business, Chapel Kids, engaged their audience last Easter — interested participants looked for 44 hidden Easter eggs to score a raffle entry.
But, you can also try this without software by posting pictures to your social media pages, hiding Easter eggs around (or outside of) your business, or asking your audience to guess how many Easter eggs are in your basket.
Bear in mind that the incentive is the best motivation to participate in your Easter (or any other) campaign. Encourage users to interact with your brand by raffling your best-sellers, offering product bundles, or distributing discounts to all users that share their contact details. In other words, the better the prize the more leads for your database.
2. Collect User-Generated Content with a Virtual Easter Egg Decorating Contest
Customer relationships are as crucial for local businesses as they are for multinational corporations — it's vital to cultivate and nurture them. They're built on trust, loyalty, and authenticity — the last one can be easily reinforced with user-generated content (UGC). Social media users believe that UGC is much more authentic than any other content produced and shared by brands. Can you already see where I'm going here?
Think of the number of posts shared every single day on social media channels — wouldn't it be fabulous if some of those posts showcased your business?
Decorating Easter eggs is a tradition that, unlike egg hunts, dates back to at least the 13th century. Just on Instagram alone, there are almost 2 million posts with the #eastereggs hashtag (Harry Potter Easter eggs are surprisingly popular!).
Social media is crucial for credibility and authenticity — a good online reputation is absolutely essential for your business. Visibility on networks like Instagram and Facebook drives engagement and sales, and honestly, I can only think of one downside of social networks: you don't own any information about your followers. That's why this Easter is the right time to focus your promotion efforts around customer engagement and lead generation.
Herald the beginning of spring with an interactive egg decorating contest by asking users to awaken their creativity. Entrants participate by designing their Easter eggs and sharing their pictures to your social media pages or by tagging your business in their posts. These can be real eggs or eggs they decorate digitally!
Let's not forget the most important aspect of your Easter egg decorating campaign — the prize. Chocolate eggs, Easter baskets, and gift cards make a fabulous prize for your Easter promotions.
Maximize lead generation by sharing a direct link to your Easter contest on social media — it will help you convert followers into qualified leads. You can even invite your audience to vote for their favorite designs and turn them into new sales prospects, too. Apart from displaying egg designs in a public gallery, you can also reshare your favorite entries as posts or Stories on your social media channels to further engage your audience. You will not only make your brand more trustworthy but you also get to use it as social proof — optimizing conversion rates and showing legitimacy.
3. Boost Sales (& Grow Your Email List) with Easter Discounts & Coupons
Who doesn't like to save money? Or maybe I should ask: who doesn't prefer to spend less rather than more? I personally can't think of anyone who wouldn't use a discount code if they had one! Easter (like any other seasonal campaign) is a great opportunity to drive traffic and sales with special sales and discounts.
Marketers try their best to reengage previous customers and encourage repeat purchases which you can see every time you open your inbox to discover discount codes from brands you purchased from in the past. What's the success rate on that with the majority of people deleting the emails without even opening them?
Make your Easter campaign about collecting high-quality leads; activate a banner on your website, run social media ads or create a pop-up promoting a special discount — but don't just give it away. Give it only to the users that provide you with their email addresses and help them through the sales funnel.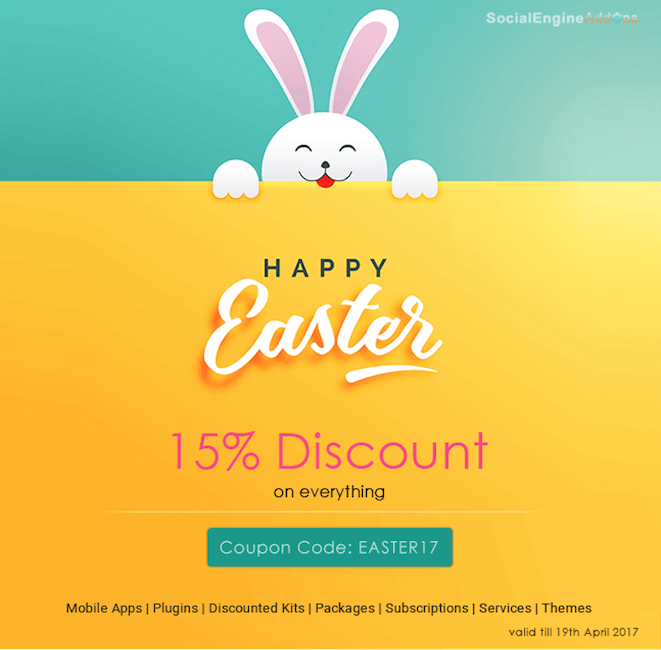 The perk of distributing discounts only to registered users is that you automatically qualify your leads by knowing from the very beginning who is actually interested in your product or service. You can then retarget those users with more personalized offers and content.
Bonus: More Easter Social Media Ideas to Boost Engagement
If you're looking for more ideas to engage your audience this Easter, try these Easter social media ideas.
Easter social media giveaway: Try launching an Easter Facebook contest! Just ask participants to answer an open question and watch how your engagement reaches levels never seen before!
Easter countdown: Interactive calendars have been gaining traction as much as social media countdowns. Count the days down to the unofficial beginning of spring and engage your followers in real conversations in the comment section.
Humanize your brand: Encourage employees to share pictures of their Easter decorations, their favorite recipes, or even pets dressed as bunnies (this is big on Instagram!). Apart from boosting employee engagement, you'll also reinforce customer relationships by showing the human side of your business.
Prizes + Fun Easter Promotions = High Engagement with Your Marketing
Hopefully, you've found an Easter marketing idea that you like! It's time to go out there and engage your audience with hopping Easter games, contests, and promotions! Just remember the simple formula: Prizes + fun campaign = high engagement + LEADS! 
About the Author
Kamila Palka is a marketing coordinator at Easypromos, especially interested in social media marketing. If she's not working on a new content piece or campaign, you'll find her skydiving, working out, or starting a new Netflix series with her cat.