Believe it or not, May is already upon us!
Justin Timberlake's pronunciation of "me" as "May" in the *NYSNC song, "It's Gonna Be Me," became a popular meme on social media. 
As we're approaching the halfway hump of the year, you'll want to keep up your social media momentum. However, with May coming up fast, it can be a challenge to plan out your posts in a pinch. We'll handle the brainstorming for you in this post by rounding up all you'll need to know about May social media marketing, like:
Social media tips to keep in mind in May.
70 May social media holidays to post about this month.
Even more May social media ideas you can use throughout the month.
With this post handy, your May social media calendar will fill up fast with revenue-driving ideas to last all month long.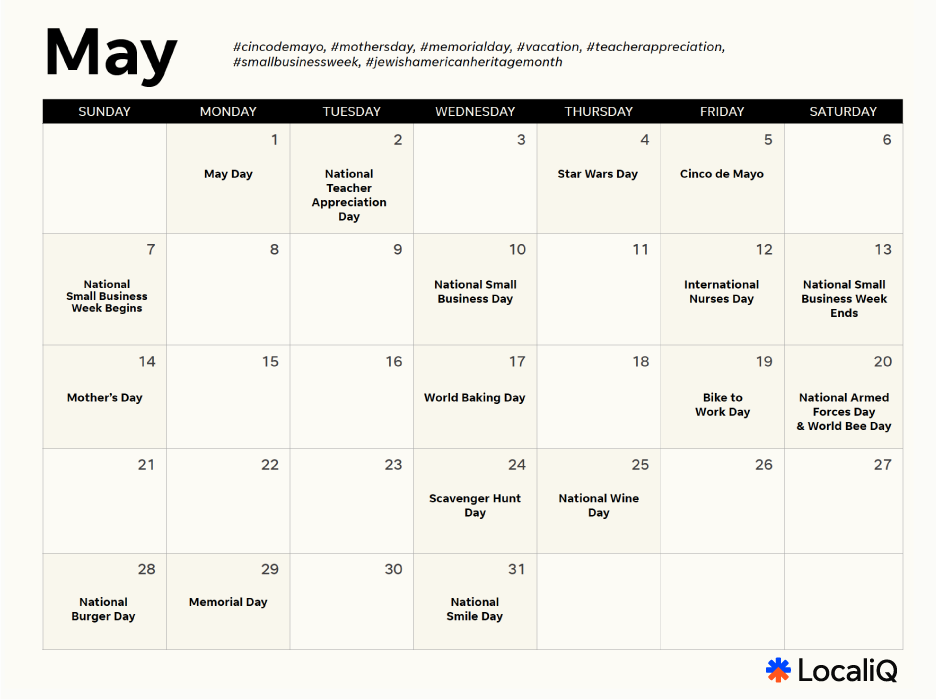 RELATED: Looking for more ideas to last the whole year? Check out our ultimate 2023 marketing calendar filled with tips, tricks, and ideas for every month you need. 
Tips to remember when leveraging May social media holidays
While you want to keep the ball rolling when it comes to your marketing plans, there are also a few social media tips you'll have to keep in mind as you pencil in your posts:
Use clear call-to-action phrases
As you create your May posts, you'll want to always have your social media goals top of mind. For example, let's say one of your overall business marketing goals is to leverage social media to help drive more traffic to your website. You'll want to use your social media content to encourage followers to click to your site. That could mean including a link in your bio, providing the link in the caption, or simply creating a video or photo that invites your followers to check you out online.
A call to action is going to look different for every business, and there's no right or wrong answer. However, being clear with the "why" behind each post can help your social media strategy have purpose and turn views into meaningful actions.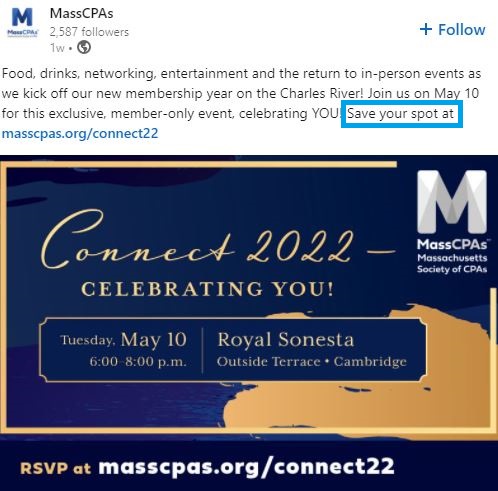 Maintain brand consistency
If you share an in-depth instructional video created by an industry expert, but the coinciding caption sounds like it's coming from a friend, your followers will be thrown off. Brand consistency matters on social media, so don't leave your followers confused with a mismatched brand personality and voice.
Using a brand style guide can help make sure important assets all align. This can help shape your business description on your profiles, or your business logo across accounts, to be easily recognizable by new followers.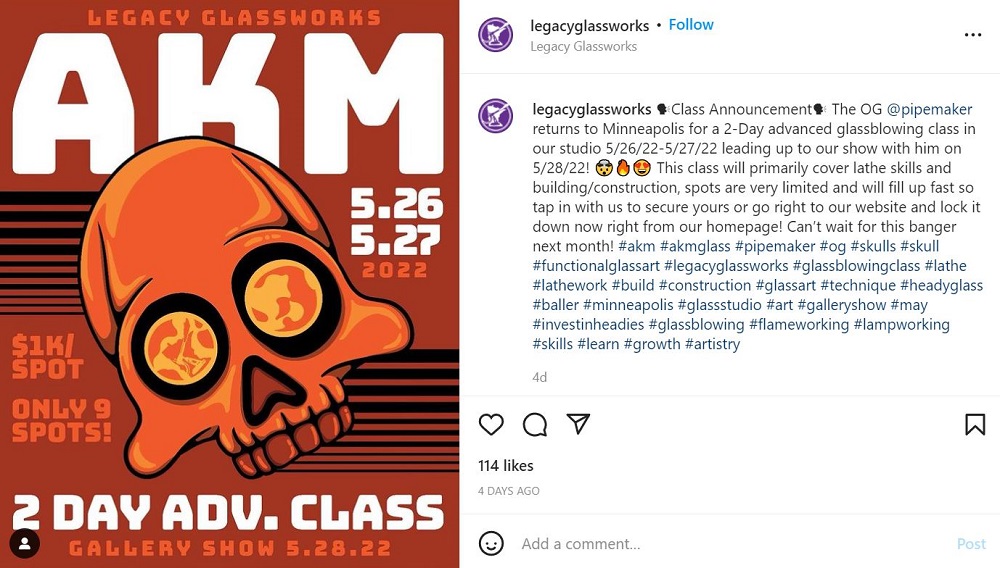 This small business has a strong brand voice in its post caption and even hid its logo in the post's image. 
Know your specs
While using images or videos is not required across all platforms, they can be necessary for some. Plus, it's a recommended best practice to include a visual aspect in your social media posts. However, it can be easy to overlook social media specs as you're pumping out posts. Don't let poorly cropped images, blurry content, or unplayable videos hold you back from social media success. Be sure to double-check your social media image sizes using our handy image below: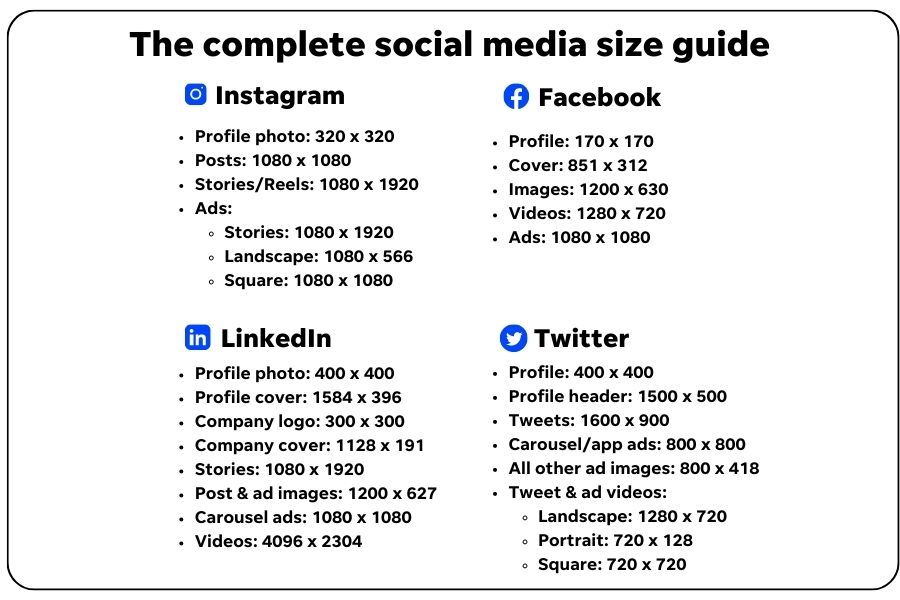 Be creative
Be sure to keep up with social media marketing trends to help your posts pick up speed across platforms. For example, emojis are consistently hot on social media as posts that use them get 33% more comments. Alternatively, hashtags are also a creative element that can help your posts get found in feeds. Try out these May hashtags below to increase your social media presence:
#springisintheair
#springishere
#springtime
#hellospring
#hellosun
#hellowarmweather
#springcleaning
#springdefrost
#fullspringmode
#mayflowers
#feelingfineinthesunshine
#grillingandchilling
#grillszn
#letsgetgrilling
#memorialday
#happymemorialday
#hamburgersandhotdogs
#thankyouarmedforces
#thankyouveterans
#stayhealthstayhappy
#smallbusinessweek
#supportsmallbusiness
#shoplocal
#smallbusinesswins
#staysmiling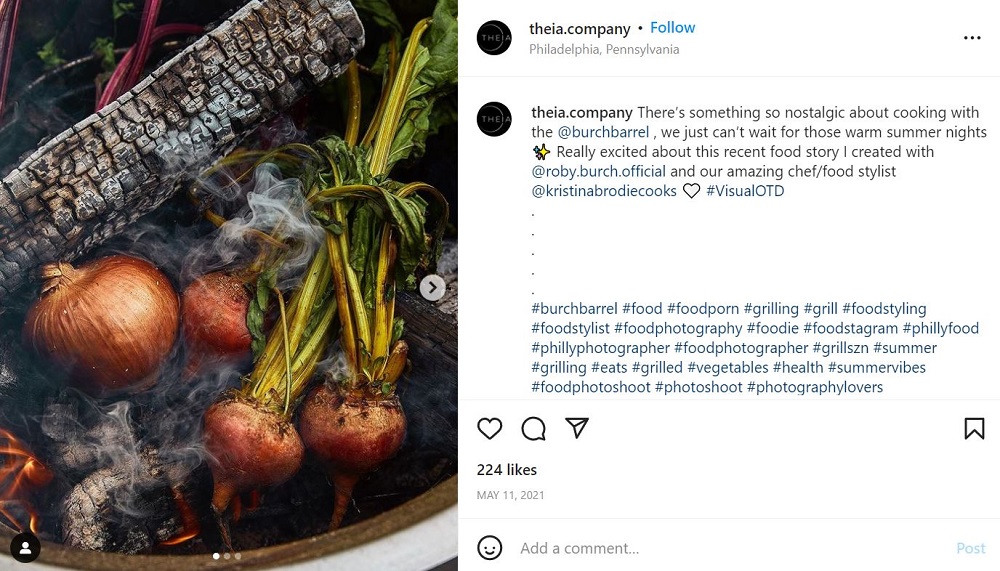 May social media holidays (with ideas and examples)
Try out these May social media holidays and monthly observances to stay on top of your local social media marketing game:
Global Employee Health & Fitness Month
We're kicking off our list with a May monthly observance no business will want to miss! The National Association for Health and Fitness founded this occasion in 1989 to remind employers of the importance of staff health. With the weather heating up, your team is sure to want to feel good from the inside out, so here are a few ways your brand can promote this social media holiday throughout the month:
Connect with others in the industry by sharing tips on how to promote employee health. Showcase how your business helps employees stay healthy with photos of office snacks, standing desks, and more. Other business owners are sure to appreciate the ideas. Plus, this helps you build a healthy employer branding strategy.
Join in on an event to foster a healthy brand community. You could invite your team to sign up for a local fun run or 5k walk-a-thon, and post pictures from the event.
Promote a new employee health initiative you'll commit to taking on. It can be as simple as providing an extra hour in the workweek for movement or partnering up with a health app to give your employees free access. However you decide to help your employees, be sure to highlight it on social media since nearly half of consumers prefer brands that show they care for their employees.
Jewish American Heritage Month
Celebrate Jewish heritage this month by posting about the amazing contributions Jewish Americans have had on the nation. This monthly observance reminds us not only of the vastly rich history this particular culture has, but also how fitting diversity and inclusion into marketing ensures no customer feels left behind. An inclusive marketing strategy should be a constant within your business, but here are a few ways to include in your social media posts by honoring Jewish American Heritage Month:
Schedule a post series where you highlight inspiring Jewish Americans. Over 50% of social media users log on with the intention to learn or do research, so your followers will appreciate the opportunity to learn more about Jewish American history.
Invite a Jewish American from your community to do a social media "takeover." You can provide access to your accounts for the day, and have a Jewish American employee, friend, family member, or community advocate come on to speak about Jewish traditions and culture first-hand. This will be a unique way to give viewers an "inside look" at the meaning behind the holiday—which can make your business stand out from the competition.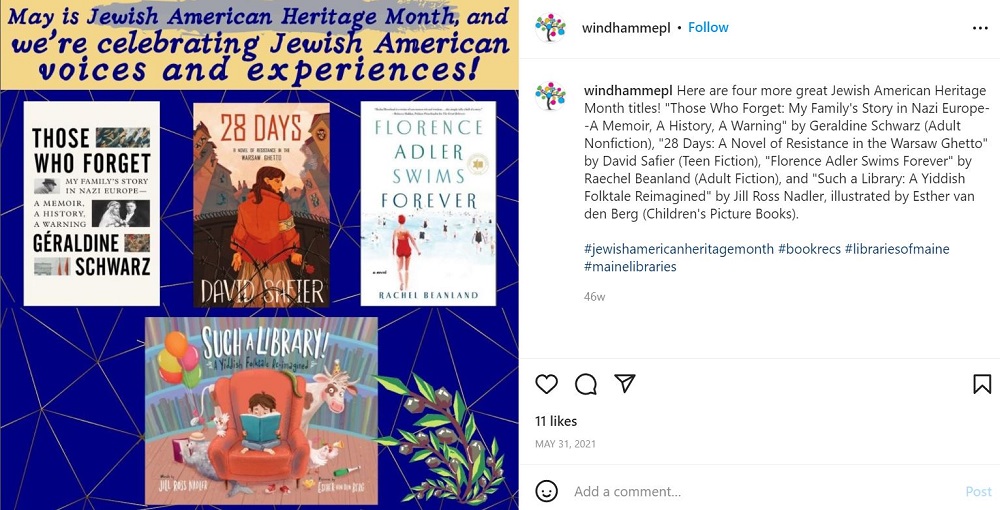 National Inventor's Month
Odds are, there is something special about your business that makes it unique compared to the competition. Take that invention and run with it this May to celebrate National Inventor's Month. The United Inventors Association of the USA, The Academy of Applied Science, and Inventors' Digest magazine all came together to form this observance in 1998. Inventions, large or small, impact everyone's daily lives, so here's a way to commemorate all the great inventions out there:
Step up your video marketing game with an informational video about what makes your business different. You can share the video across platforms to give your overall social media strategy a boost. About 70% of people prefer video content over text when learning about something, so this is a great way to teach your audience about the inventions your business has brought to light.
Share a lesser-known invention that changed lives to wow your followers. For example, NASA invented treadmills, memory foam, and cordless vacuums. Those are items people may not always think about but couldn't live without!
Spark enthusiasm amongst your followers by sharing inspirational quotes or stories from successful inventors. Inventors are known to think outside the box to see success, and your followers will appreciate a look into those perspectives. In fact, brands that inspire their customers to grow at a faster rate than those that don't, so be sure to appeal to target your audience using this type of post throughout the month.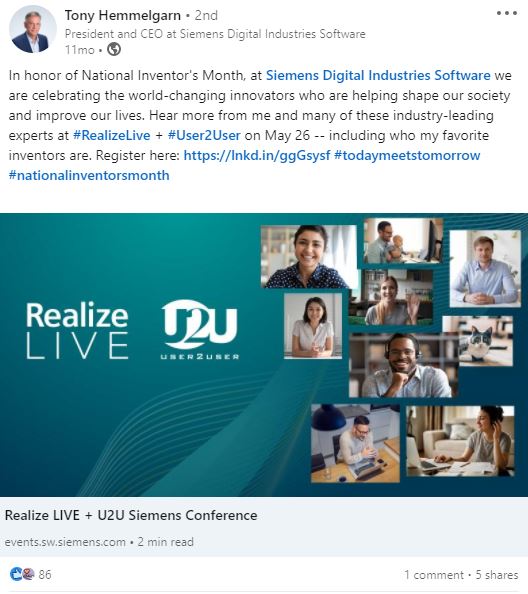 National Photography Month
National Photography Month is the perfect May observance to take advantage of on social media since it's such a visually driven marketing channel. If your business doesn't directly correlate with photography, don't worry! There are still plenty of social media post ideas you can try:
Share the best shot of your business! You could even host a photo contest or giveaway to offer a prize for the employee or customer who shares the most captivating photo of your business or products.
Partner with a local photographer. Most photographers run their own small businesses, so help a business similar to yours by shouting each other out on social media. You could post coupons customers can receive at one another's business, and share a tag on Instagram to link followers to both pages.
Repost an amazing photography shot. The 4-1-1 rule recommends having a mix of both your own content and reposted content on social media, so this is the perfect opportunity to give your followers something new to look at. You could choose to repost an amazing photo that relates to your niche market, or just something easy on the eyes that can make your viewers smile.
April 30-May 6: Small Business Week
Small business week is the highlight of any growing business's marketing plan. Created to remind consumers to continue to shop local and support small businesses beyond just the holiday season, this is the perfect time for you to recycle any Small Business Saturday marketing. Alternatively, here are some new post ideas to try for Small Business Week:
Partner with other small businesses. Small Business Week is not only about the customers but also about businesses supporting businesses. Advocate for other small businesses in your community by sharing out some establishments you love. That way, you're providing small business week recommendations to your followers to help you build brand trust and credibility.
Go head to head with a big brand. Small businesses can compete with big brands, but you just have to prove it to your followers. You don't have to call out any big brands by name, but post a short list or highlight reel of things your business does better than the big brands in your industry. Small Business Week is the perfect time to brag about why you're proud to be small, so don't be afraid to address that as a benefit rather than a drawback to your business.
Thank your customers. Without customer loyalty, your business wouldn't have been able to grow to what it is today. Be sure to show your appreciation to your customers for making Small Business Week a May social media holiday worth celebrating.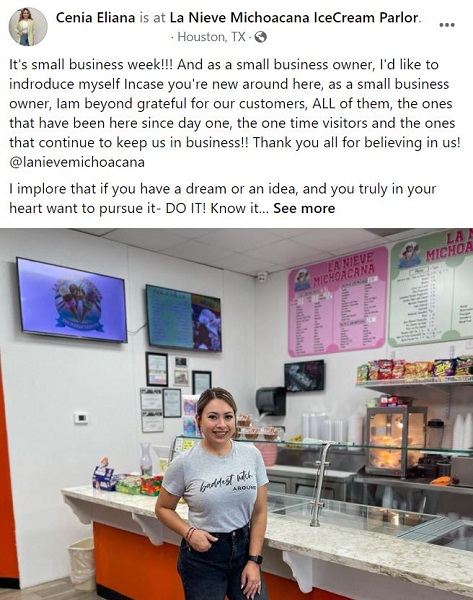 May 5: Cinco De Mayo
Spanish for "Fifth of May," Cinco de Mayo is also known as the anniversary of the Battle of Puebla. Not to be confused with Mexican Independence Day (which is September 16), this May social media holiday commemorates the victory over invading French forces in 1862. While the holiday has since become more mainstream in the U.S., Mexican Americans use it as an opportunity to showcase their culture. Here are a few ways your business can join in on the fun:
Post a traditional Mexican recipe. The best part of any culture? The food and drinks, of course! Cinco de Mayo is the perfect opportunity to draw new followers in with tasty traditional treats.
Offer your customers deals that follow the theme of five. Since Cinco de Mayo falls on the fifth of May each year, you can play into that when promoting your business. For example, offer $5 off for the day only to create social media buzz.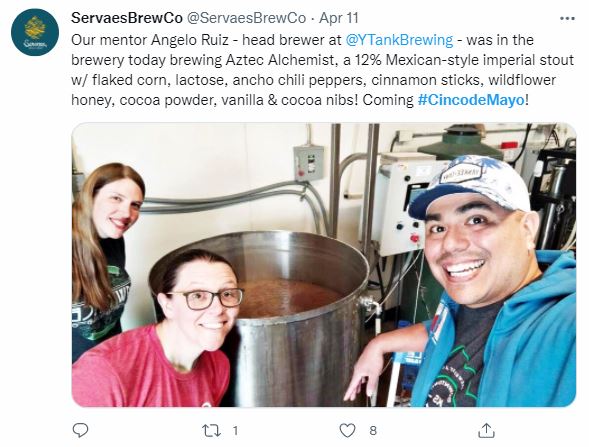 May 14: Mother's Day
Mother's Day is a can't-miss May social media holiday since nearly everyone has had a mother figure at some point in their lives. Get ahead of your Mother's Day marketing with these ideas below:
Think of a stand-out Mother's Day Instagram caption and use that as inspiration to create a custom photo or video to match. Your Mother's Day social media posts should be about quality, not quantity. So taking time to create one or two stellar, yet simple, "Happy Mother's Day" posts is all your business needs to succeed.
Coin a unique Mother's Day slogan and use it across your social media channels. Mother's Day is the perfect holiday to run an exclusive promotion like a sale or referral program. To build awareness for this promotion, you could create a catchy slogan to add to your Mother's Day post creative or in your account bios temporarily.
Create a thoughtful and inclusive Mother's Day post that acknowledges members of your audience that may struggle with the holiday. A mother figure looks different to everyone, so you might want to include diverse imagery of different types of moms in your posts, or adjust your caption to be mindful of those who find this holiday difficult.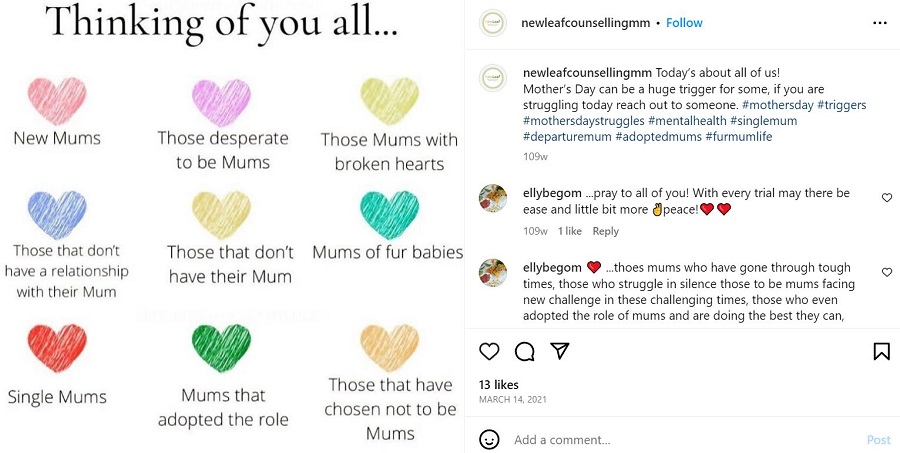 May 15: International Family Day
Also known as International Day of Families, this May social media holiday was founded by the United Nations in 1994 to reinforce that families, both traditional and non-traditional, are the cornerstones of society. As a growing business, your real family and your "work" family both play a role in your success. Here are a few ways to show appreciation for families of all shapes and sizes on social media:
Highlight a family from your business. This can be your own family, an employee's family, or even your "work" family. Interview different family members and compile it into a profile video to give your followers an inside look into the people behind your business.
Help out families in need. There are plenty of family-specific shelters and resources throughout local communities. Find one your business could donate to or volunteer at, and take pictures throughout the process to showcase how your business gives back.
Host a family fun day your customers can join in on. This event could occur in person at your store or office location, or virtually, and will help draw a crowd of both new and returning customers. Try to include a few activities themed around your business that folks of all ages can enjoy. Be sure to take plenty of pictures so you can reminisce on the event along with your followers for many months to come!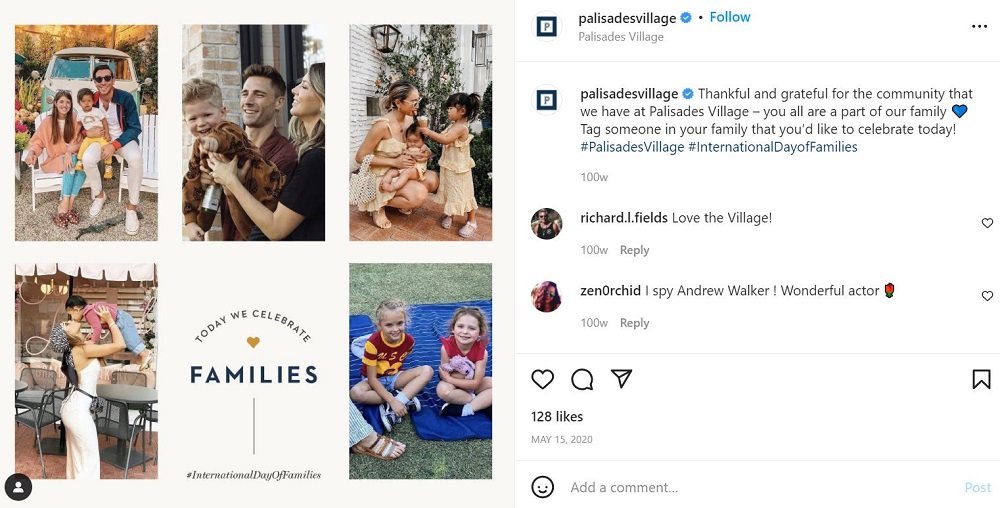 May 20: Pizza Party Day
Need we say more? On Pizza Party Day you're celebrating one of the most popular dishes across the world. In fact, 94% of Americans eat pizza regularly, and over 5 billion pizzas are sold each year worldwide. With those numbers, there's no doubt all your followers are bound to love these Pizza Party Day post ideas:
Host your own pizza party! Invite your employees to a pizza lunch and take photos to share on social media later. You could even get your followers involved by inviting them to join virtually over Instagram live or Twitter spaces.
Ask your followers to send in their best pizza photos. The additional tags from participating users can help you show up in feeds later, and you recycle their photos onto your page or story as a quick way to post fresh content.
Post a series of pizza trivia. There are tons of fun facts out there on pizza, so your followers will be eager to comment back with their answers to your tricky pizza trivia questions. For example, did you know more than 41% of Americans eat pizza at least once per week? Cool data points like that are sure to get your followers chatting about your trivia posts.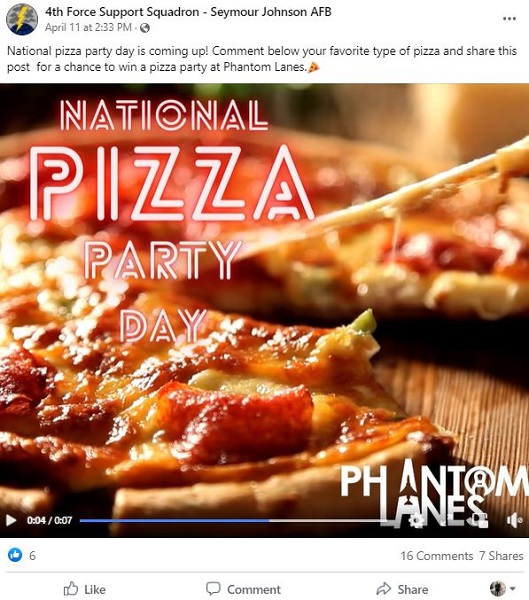 May 29: Memorial Day
Memorial Day marketing can be just as tricky as it is rewarding.  Be sure you're on top of your Memorial Day social media posts with these ideas:
Work with a micro-influencer for a post shoutout. Since Memorial Day is such a popular May social media holiday, leveraging an influencer that has a slightly larger following than your own can help you to expand your reach in a pinch. Influencer marketing is a great way to squeeze your business into popular Memorial Day social media trends. For example, they could mention your product or service in a video about them getting ready for Memorial Day.
Get grilling! Host a Memorial Day cookoff and post the recipe winners. 54% of people use social media to find a new recipe, so your followers will be eager to use your grill posts as inspiration for their own Memorial Day celebrations.
Say "thank you" to your local veterans. Dating back to the American Civil War, this day was created to honor and remember veterans who gave their lives to our nation's values. Show how your business supports the troops by donating or volunteering at your local veteran organization. If you don't have the marketing budget or resources to give back, a simple "thank you" image created on a free tool like Canva, can be just as effective to show your gratitude.
Highlight a veteran that matters to your business. You may have an employee who is a veteran, or a friend or family member who is a veteran. Highlight them on social media by posting their photo with a caption about why you appreciate them. You could even let them jump in on the content to discuss what being a veteran means to them.
Get more Memorial Day social media posts (with free templates to customize!) here.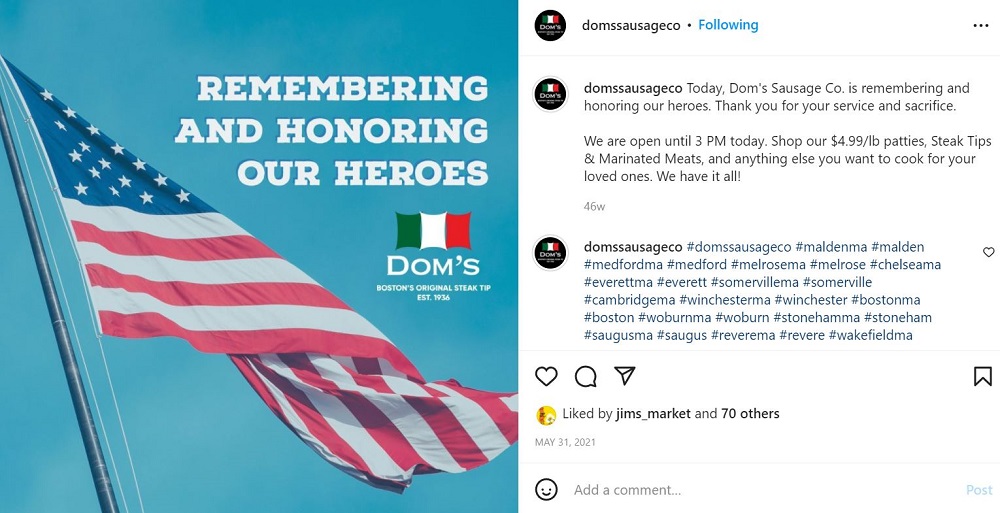 May 31: National Smile Day
Did you know that when you smile, even if you don't want to, it tricks your brain into making you happy? That's right, whenever you want to give yourself a mood boost, try smiling for a minute. The same should work on your followers, as making them smile may be a sneaky way to market with emotion—allowing them to associate your brand with happy thoughts.
Unfortunately, though, only 30% of people smile more than 20 times a day and about 14% of people smile less than five times per day. While we wish those numbers could easily turn into 100% of people smiling 100 times per day, here are a few ways you can help your audience to smile more on National Smile Day:
Repost a funny video, photo, or meme. More than half of consumers say they're more likely to remember and enjoy a piece of content if it's funny. With this type of post, you're reaping the benefits of using humor in marketing to make your brand more memorable without needing to brainstorm the content yourself.
Partner with a local dentist's office. Dentistry practices are often family-owned or locally operated and open to opportunities for partnership with other small businesses. See if you can arrange a referral program with a local dentist so that you may both benefit from one another's patrons. This is a great way to remind your followers about the importance of a healthy smile.
Use this May social media holiday as an opportunity to highlight a superstar product or service. In your caption or video script, discuss how you can make your potential customers smile by solving a problem they have with one of your products or services. When you address customer pain points, you're getting ahead of any hesitation they may have throughout the buyer's journey. That way, they'll be leaving your post ready to turn into a happy customer.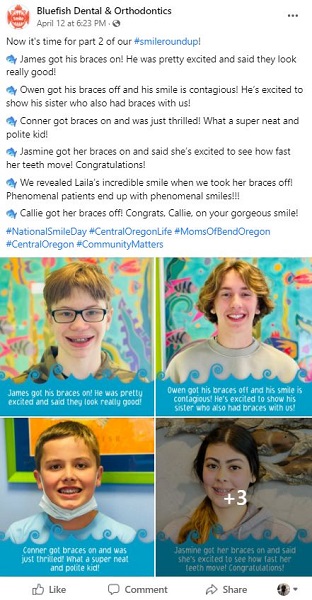 Even more May social media holidays
Need even more May social media holiday inspiration? We've got you covered with these additional dates and monthly observances:
ALS Awareness Month
American Cheese Month
Haitian Heritage Month
Healthy Vision Month
Family Wellness Month
Foster Care Awareness Month
Military Appreciation Month
National Barbecue Month
National Dental Care Awareness
National Egg Month
National Wildfire Awareness Month
Speech and Hearing Awareness
May 1: May Day
May 1: National Lemonade Day
May 1: Law Day
May 2: National Foster Care Day
May 2: Teacher Appreciation Day
May 4: Star Wars Day
May 5: World Password Day
May 6: International No Diet Day
May 6: National Space Day
May 6: Kentucky Derby
May 7: National Fitness Day
May 9: National Moscato Day
May 10: National Small Business Day
May 11: Twilight Zone Day
May 12: International Nurses Day
May 13: Fair Trade Day
May 15: Peace Officer's Memorial Day
May 17: National Graduation Tassel Day
May 17: World Baking Day
May 18: National HIV Vaccine Awareness Day
May 18: Visit Your Relatives Day
May 20: NASCAR Day
May 20: National Bike to Work Day
May 20: National Endangered Species Day
May 20: National Rescue Dog Day
May 21: Armed Forces Day
May 21: World Whiskey Day
May 22: International Day for Biological Diversity
May 22: World Goth Day
May 22: World Paloma Day
May 23: Lucky Penny Day
May 23: World Turtle Day
May 24: National Asparagus Day
May 25: National Missing Children's Day
May 25: National Senior Health and Fitness Day
May 25: Tap Dance Day
May 27: National Heat Awareness Day
May 27: National Sunscreen Day
May 27: National Road Trip Day
May 28: National Brisket Day
May 28: National Hamburger Day
May 30: Mint Julep Day
May 30: National Creativity Day
May 31: World No Tobacco Day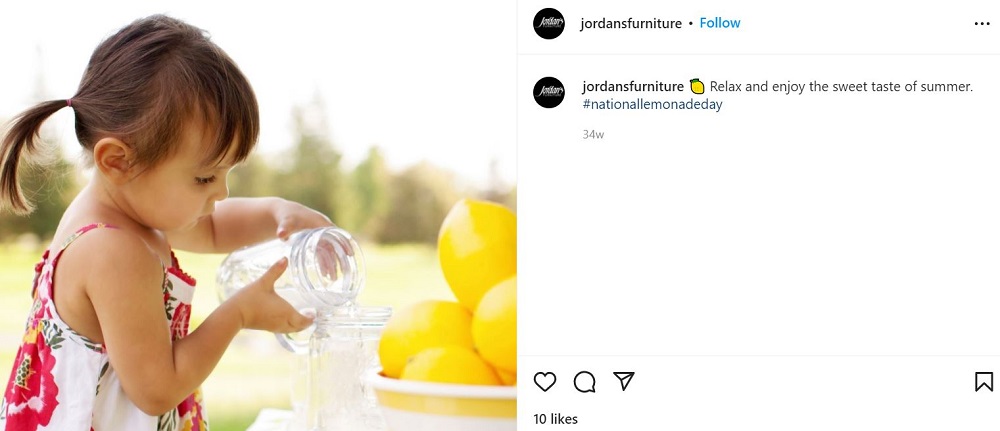 May social media ideas (not about holidays!)
If holidays don't mesh with your business's local marketing strategy, no worries! These additional May social media post ideas are sure to do the trick:
Fun in the sun
The weather is heating up, and so can your social media! Show off how you and your employees may be planning to have fun in the sun. This could include twists like outdoor meetings or walking and biking to work. Take plenty of photos of any outdoor activities you may do to share with your followers. You might even inspire your followers to get outside too—causing them to tag you back on their "fun in the sun" posts.
Summer showcase
Think of this May social media idea as the same process you'd take when updating your local listings. Is there anything important you want your followers to know about your business over the next few months? Use your May social media posts as an opportunity to frame up any key product promotions for the summer. You could even start to plan a "summer showcase" event you can host later in the season, but create buzz about it now.
This is an easy spin on anything you may want to position differently for the summer. For example, you may tease an upcoming summer offer with a post that reminds followers to check their feeds later for your "summer showcase" highlights.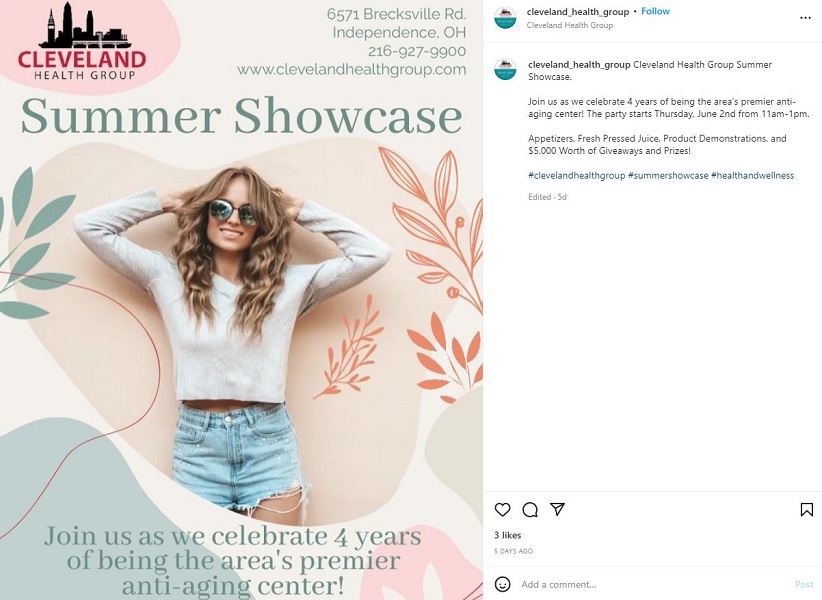 Vacation prep tips
Many of your followers may be planning vacations during the slower summer months. Plus, your local school probably has a summer break coming up. Relate to what's going on in your followers' lives by sharing out a series of tips on how you prep or pack for vacation. Even business owners need time off, so share out some stress-busting tips for any and all things related to vacations. This timely post is sure to be a hit with your followers as they start to think about their own vacations.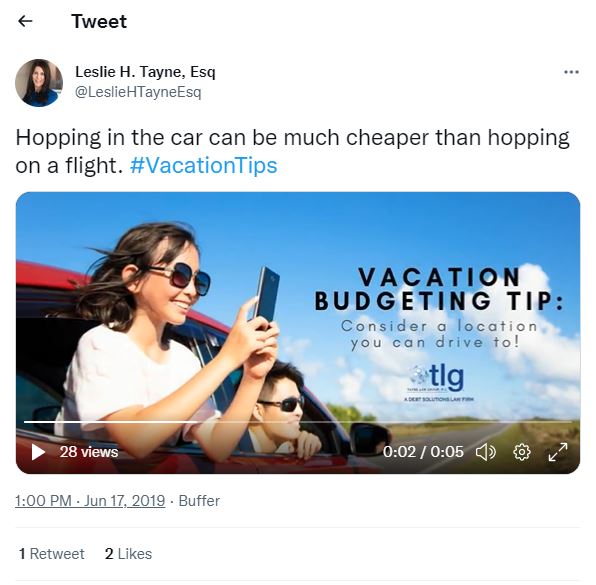 How May social media ideas and holidays can inspire your monthly marketing
There are marketing opportunities behind every corner as you plan your May calendar. With so many May social media holidays and ideas to choose from, your business won't be short of ideas to keep your target audience entertained and informed across platforms. However, if you ever feel in a rut as you create your May social media posts, see how our solutions can help you have your best May yet!