75 December Social Media Holidays & Ideas to Delight Your Audience (with Examples & Templates!)
The last month of the year is finally here! We're in the home stretch, and now's the time to rally and take advantage of this merry season when customers are ready and willing to support local businesses.
Lucky for you, December is basically synonymous with holidays, so you'll have no shortage for your social media calendar this month. And we're giving you the gift of ideas with: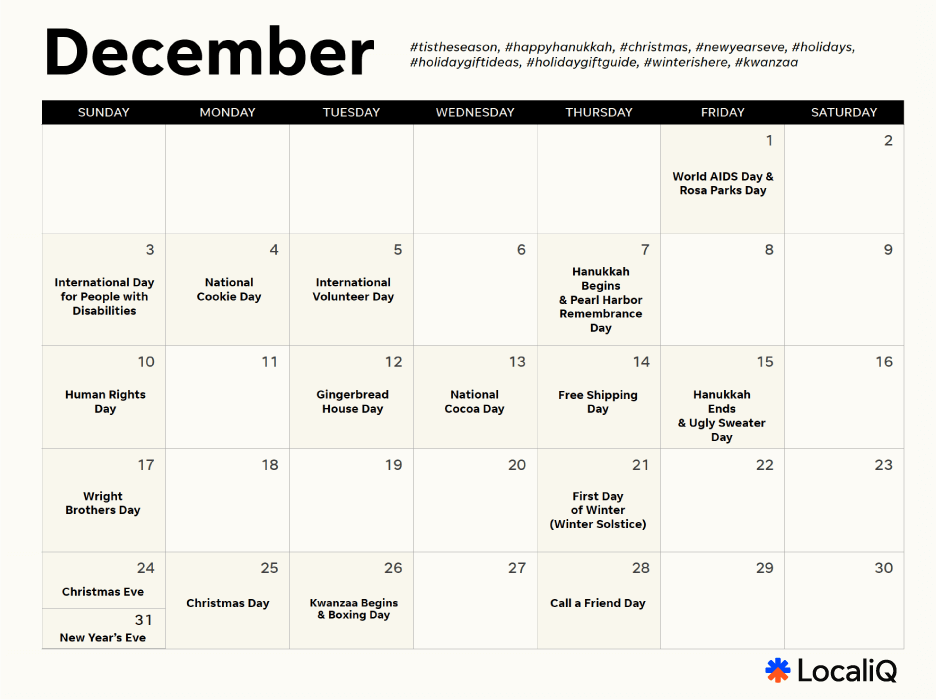 Tips for your December social media calendar
Before we get into the plethora of December social media holidays and observances you can highlight this month, here are a few general social media tips to keep in mind as you plan your December marketing calendar.
Schedule your social posts!
December is a busy month. Not only are you trying to finish out the year on a high note, but you're probably taking some time off to spend with your loved ones during the holiday season. The best social media tip we can share for December is to schedule all your social posts ahead of time. This can help you stress less this season while keeping your social media calendar filled.
Keep engagement high
Once all your social media posts are scheduled for December, it will free up a little more time for engagement. As you'll see, this month is packed with holidays and observances, and our ideas will help you increase your social media presence—and hopefully engagement—with your audience. But engagement is a two-way street, meaning you need to participate in the conversation beyond your initial posts. This means responding to comments, interacting with other businesses and followers, and following back to grow your audience.
Related: Get even more ideas for engaging posts on social media.
See what worked on social throughout the year
With only one month left in the year, now is a great time to take stock of what performed well for your business's social media marketing strategy this year and what wasn't so hot. This can inform your 2024 marketing planning and help you focus on the types of social media content that best engage your audience. You just might be surprised by what you find! Get our tips to check (and improve) social media engagement here.
🎁 Free guide >> 6 Simple Steps to a Complete Small Business Marketing Plan (+Template!)
December social media holidays with ideas (and examples)
Now, the fun part! Let's dive into the December social media holidays and observances you can use to engage your audience and finish out the year on top.
Want a full list of social media holidays for every month of the year? We've got you covered!
National Stress-Free Family Holiday Month
The holidays are fun, but they can easily be stressful—especially for families. This December observance is all about creating a stress-free holiday month, which your business can get in on by posting relevant and helpful social media posts. Here are some ideas:
Share weekly tips to help your audience beat holiday stress this season. (You might even create a handy graphic like in the example below.)
Create a Facebook poll to ask your audience how they relieve stress during the holidays. Share the top answers throughout the month.
Share some stress-free ideas parents can use to keep kids entertained once school is out. You can even highlight some local (free!) events and places to visit.
Healthcare businesses, spas, and salons can share self-care tips to ease stress that tie back to their businesses during the holiday season and into the new year.
Safe Toys and Gifts Month
People (like me) are always looking for guidance on the best gifts to give the kids in their lives. You never want to be the aunt or uncle who buys their niece or nephew a potentially dangerous toy or gift. Your business can take advantage of this December observance all about highlighting safe toys and gifts with these social media ideas:
Create and share a safe toys gift guide with your audience.
Highlight toys and gifts from your business that would fit the bill on social media.
Ask parents to share the best toys their kids have received.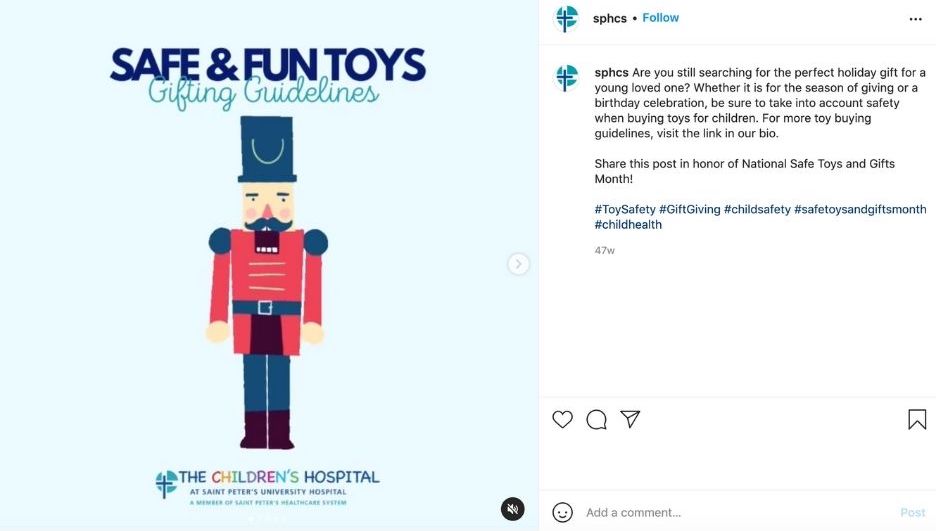 Read a New Book Month
December is Read a New Book Month, which is a great time to engage your audience and discover some new books to read yourself in the process. You can highlight this December observance in a few different ways on social media:
Start a virtual book club for the month. Ask your audience to choose a book to read and post a prompt to answer or host a Facebook or Instagram Live each month to talk about it.
Gather a few of your employees and ask them to share the best book they read this year. Take a picture of them with the book and post it to your social pages throughout the month.
Highlight a local bookstore or your local library to remind people to support your community this holiday season.
Ask your audience to share a new book they're reading this month.
Get in on the #BookTok trend by sharing your favorite reads on TikTok and using the right hashtag.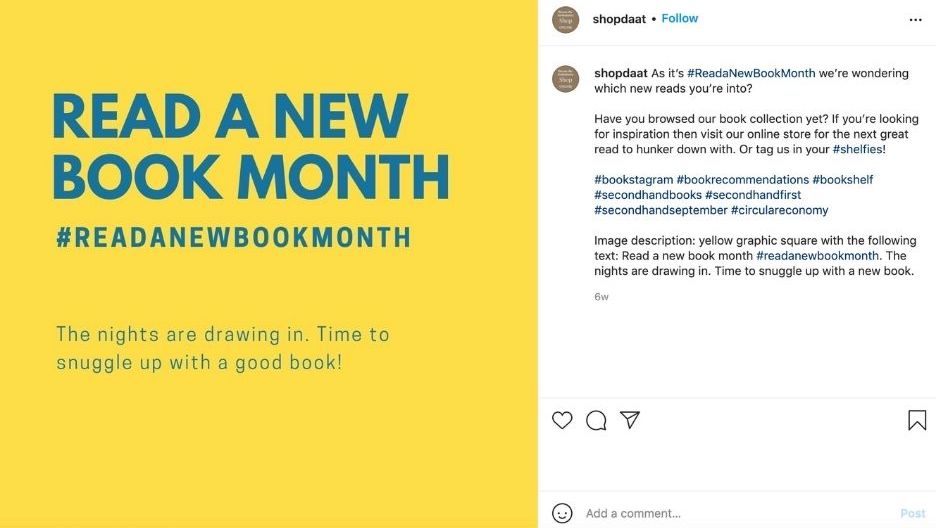 Dec 1: Rosa Parks Day
December 1st is Rosa Parks Day. This inclusive holiday observance honors civil rights hero Rosa Parks and her decision not to give up her seat on December 1, 1955, jumpstarting the Montgomery Bus Boycott. Here are some ways to observe this day on social media:
Share an article from your local publication about Rosa Parks Day or reshare a post from a reputable source celebrating this observance.
Share a quote from Rosa Parks on your social sites. You can use Canva to make it look nice!
Share prominent books and resources that highlight Rosa Parks and all she did for the civil rights movement.
Dec 7-15: Hanukkah
Hannukah begins at sundown on December 18 and ends at sundown on December 26. Use these social media ideas to celebrate:
Wish those celebrating a Happy Hanukkah.
Share a Hanukkah gift guide on social media.
Run an 8 Days of Hanukkah contest and share it on social media.
Use Hanukkah hashtags.
Share Hanukkah tips, resources, or products.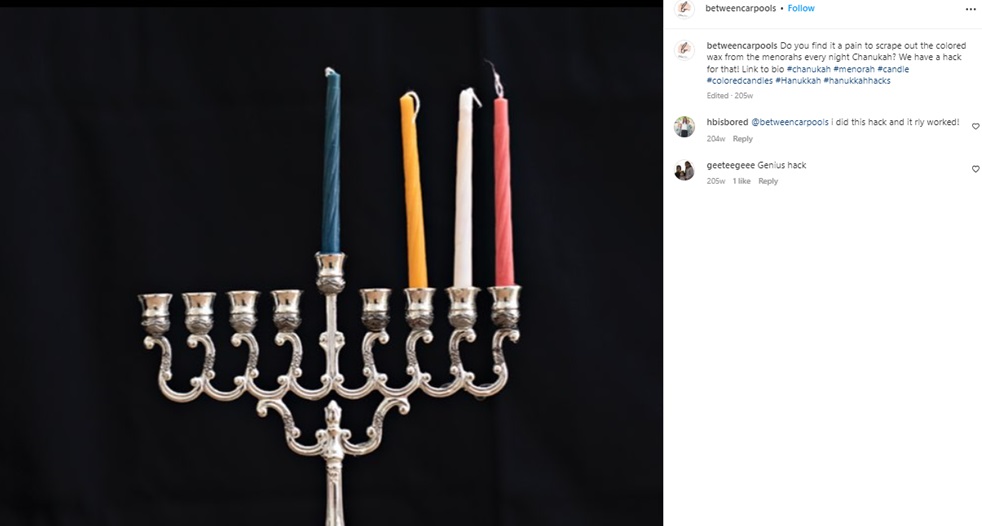 Dec 9: Gingerbread Decorating Day
Gingerbread decorating is a tried and true holiday tradition for many families and businesses. Your business can get in on the fun by celebrating Gingerbread Decorating Day in a few different ways:
Hold a gingerbread decorating contest at your business for kids (and adults!). Share pictures of the fun on social media.
Take it a step further, and have your social media audience vote for the best gingerbread house. The winner gets a prize!
Ask your fans and followers to decorate gingerbread houses at home and tag you in their pictures. Choose someone at random to get a gift card or swag bag.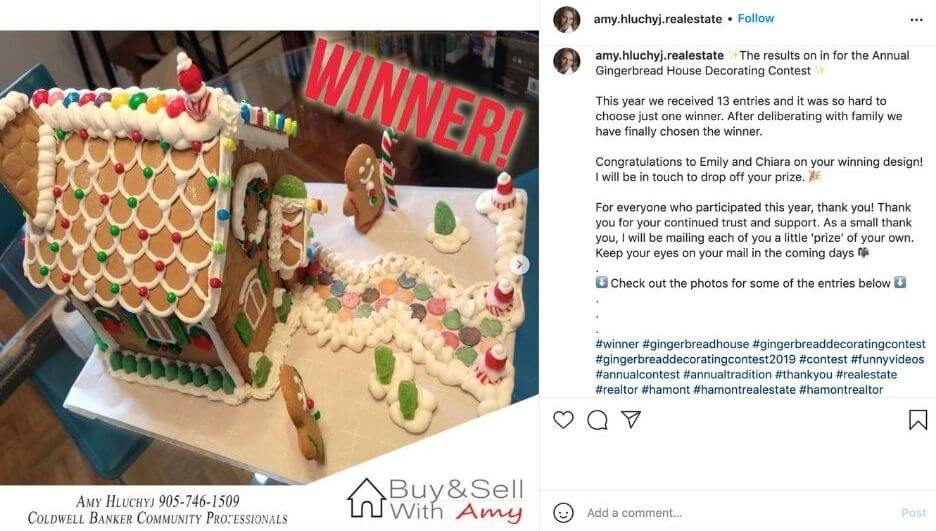 Dec 14: Free Shipping Day
Free shipping is a big deal—especially around the holidays. In fact, our study found that only 20% of people will pay for shipping. Celebrate Free Shipping Day with these social media ideas:
Offer free shipping and promote it on social media. Make a cute graphic on Canva to spread the word. (We made three free shipping Canva templates for you! And we created a guide for how to use Canva here.)
If you offer free shipping year-round or on specific purchases, make sure to highlight that on social for this day.
A great alternative to free shipping is curbside pickup. If your business offers this service, highlight it on social media to make sure your audience knows.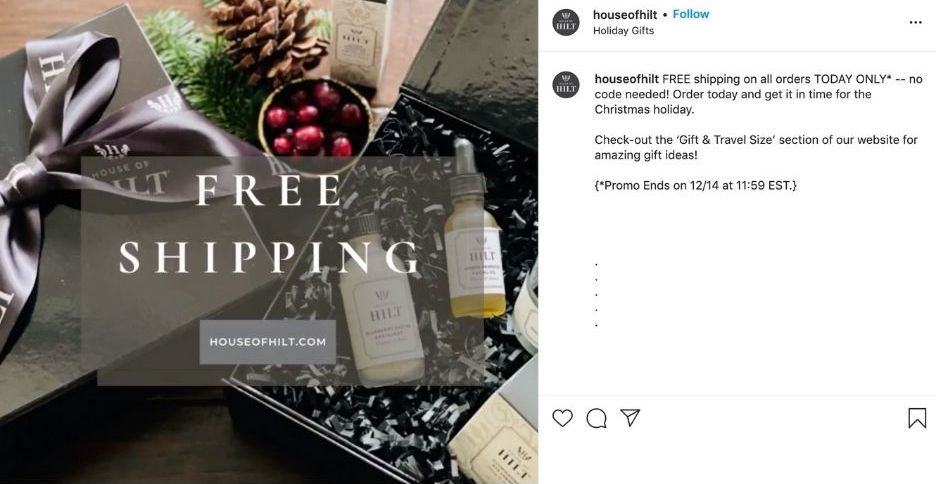 Dec 21: First Day of Winter
It feels like once December hits it should be winter, but the first day of winter actually falls on December 21. This is a great social media post opportunity. Here are some ideas to try:
Share winter safety tips on social media. For automotive businesses, this could be how to care for your car during the colder months. Home services businesses can share how to winterproof your home, how to avoid common winter plumbing pitfalls, and the types of maintenance checks needed during the winter. Fitness businesses can share how to exercise at home when it's too cold to go to the gym.
Promote any winter deals, specials, or promotions you're running this season.
Highlight any seasonal products or services you're offering on social media. For example, you might be introducing a new seasonal ingredient on your menu or a new seasonal scent for your spa business.
Ask your audience to share their favorite winter-related pictures and tag your business. This could be local scenery, winter pictures with their family, or winter recipes.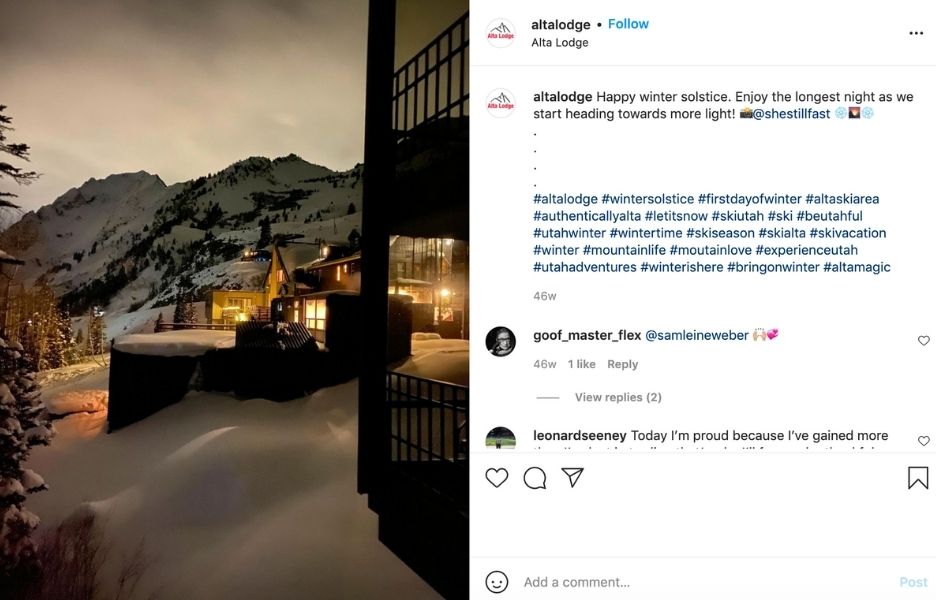 Related: Get winter Instagram captions and Canva templates to use all season long.
Dec 25: Christmas
Who can forget Christmas? This December holiday gives you ample social media ideas to take advantage of, but here are a few:
Create a holiday gift guide and share it on social media.
Make sure to highlight any holiday promotions you're running on social media!
Ask your audience to share their favorite Christmas tradition on social media.
Create a holiday video from your business and share it on social media.
Share Christmas-related tips—like the best way to wrap a present, the types of food to keep away from your pets during the holidays, and how to prep your home for Christmas visitors.
Hosting or sponsoring a Christmas event? Make sure to share that on social media!
Add Christmas hashtags to your posts to expand your reach.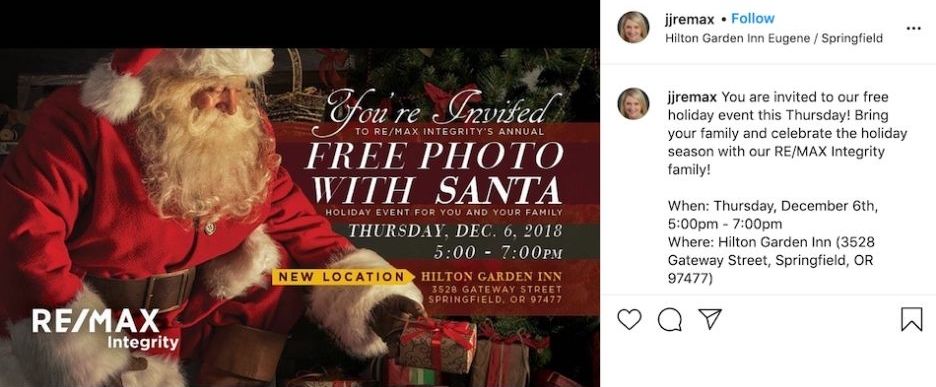 🎄 Want to give the gift of great holiday promotions? Download our free guide for ideas!
Dec 31: New Year's Eve
Ah, the last day of the year. New Year's Eve is a great time to send your audience off into the new year with good wishes (and remind them to come back to you in 2024!). Here are some ideas to try:
Post a nice-looking Happy New Year's graphic and wish your audience a prosperous New Year. We created three New Year's social media templates for you on Canva here!
Create a roundup to share on social media of the best places to go on New Year's Eve for food, drinks, and/or fireworks in your area.
Reshare New Year's Eve events or ideas from other local businesses.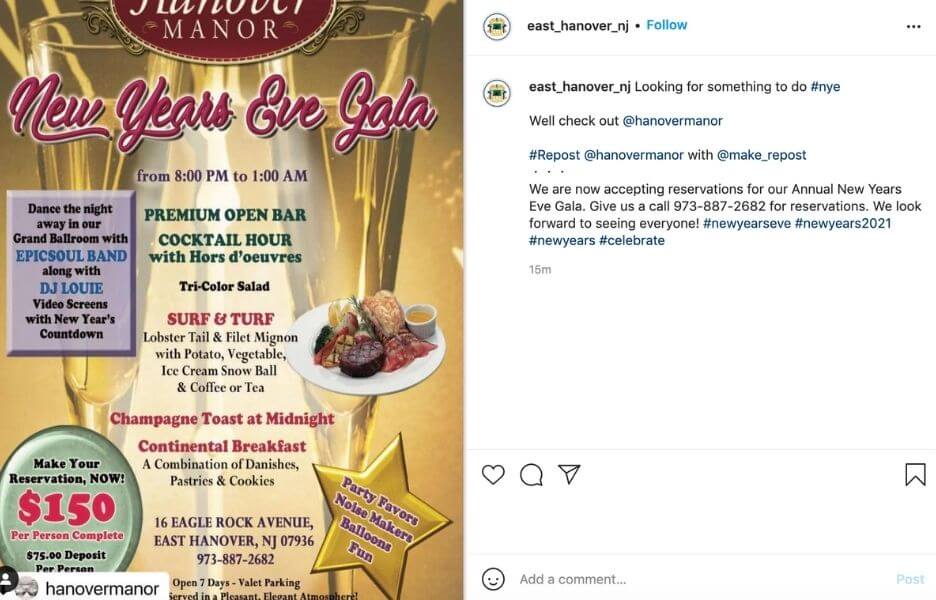 More December social media holidays
Don't worry! There are plenty more December social media holidays you can use to fill your calendar:
National Write a Business Plan Month (We can help you with that! Get our marketing plan template here.)
National Egg Nog Month
National Fruit Cake Month
National Tie Month
Seasonal Depression Awareness Month
World AIDS Month
Write a Friend Month
Dec 1: National Christmas Lights Day
Dec 2: National Mutt Day
Dec 3: International Day of Persons with Disabilities
Dec 4: Extraordinary Work Team Recognition Day
Dec 4: National Cookie Day
Dec 6: Walt Disney Day
Dec 7: Letter Writing Day
Dec 9: Christmas Card Day
Dec 10: Human Rights Day
Dec 13: National Cocoa Day
Dec 15: International Tea Day
Dec 17: National Ugly Christmas Sweater Day
Dec 21: Crossword Puzzle Day
Dec 22: National Cookie Exchange Day
Dec 24: Christmas Eve
Dec 26: Boxing Day
Dec 26: Kwanzaa
Dec 28: Call a Friend Day
Dec 29: Still Need To Do Day
December 31: National Champagne Day
PS: Get more December marketing ideas and holiday Instagram captions here.
Even more December social media ideas to try
While December gives you a lot of social media holidays and observances to play with, you can branch out beyond these special days. Here are some ideas to balance out your December social media calendar.
Run a holiday social media contest
No matter which you're celebrating or focusing on, the holidays give you a great opportunity to run a Facebook contest or Instagram giveaway. Customers are looking for deals during this season, and they might be more apt to enter your contest if the prize is something worthwhile. Here are a few different holiday social media contest ideas to try:
12 days contest: During this 12-day challenge, you can have participants either perform a different task each day, or keep it simple and have them like, comment, and tag a friend on each post for 12 days. At the end of the 12 days, you can choose a winner at random. This will have people coming back to your pages day after day while increasing engagement and potential followers.
Holiday photo contest: You can have users share a picture related to your contest and tag your business for a holiday photo contest. This will increase exposure for your business and let you share user-generated content when you reshare posts from your customers.
Holiday engagement contest: This can be any type of contest to increase engagement—either having users tag friends in an entry, having them check in at your location, or liking every post you publish throughout December. Make sure to choose a great prize and watch the engagement roll in!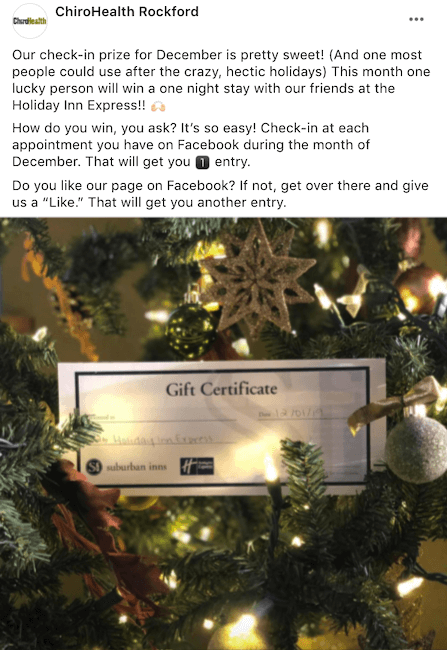 Integrate your social media posts with your holiday campaigns
A cross-channel marketing strategy is important any time of the year, but it can really increase your chances of standing out during December when businesses are vying for views and engagement. If you're running any special holiday marketing campaigns, make sure to incorporate social media into the mix. And, the key to a solid cross-channel marketing strategy is to keep your messaging, images, and offers consistent across all marketing channels.
In the above example, you can see that Spotify incorporated social media into its Wrapped campaign strategy.
Start teasing your 2024 plans on social
It's never too early to get a jumpstart on the new year! Perhaps in 2024, you're adding new products or services, launching monthly specials, or opening a new location. Give your social media audience a peek behind the curtain at what they can expect from your business next year.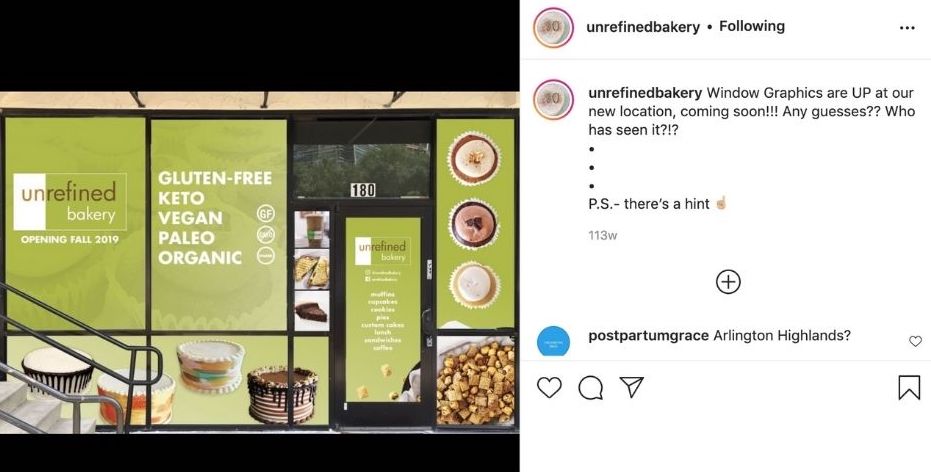 Fill your December social media calendar with holidays galore
By taking advantage of these December social media holidays, observances, and social post ideas, you'll have customers clamoring to your profiles. Test some new things and find out what works best to increase your social media presence before we move into the new year!
Already planning for January? Get January social media holidays and ideas here!