November, we owe you an apology. You are a forgotten month.
When I think of the month of November, my brain immediately jumps to the end of the month when all the holidays kick into action. But what about all the plain old weeks in between?
In terms of marketing, that lull in between Halloween and the winter holiday season can be a challenge for small businesses looking to grow. In November, businesses need to cater to audiences that are eagerly waiting for holiday fun to begin. To meet that need, emails are the easy route to switching up your strategy in a pinch. We'll show you how by exploring the following:
Why your small business should try email marketing this November.
What should be an email subject line for Thanksgiving and other holidays?
November email subject line ideas any business can use all month long.
We've got you covered on both ends of the spectrum with holiday email subject lines and what to do in between for a memorable November.

Why email marketing is important in November
Email marketing is crucial for small businesses throughout the year, but even more so in November. In fact, average email conversion rates jump from 7.26% in October to a whopping 8.66% in November. Plus, studies have shown that emails sent during autumn and winter drive the most traffic to your website. You can use your email marketing in November to:
Provide information on holiday hours.
Let customers know about holiday sales.
Give thanks to your staff and customers.
Offer fall and winter specials for certain services.
Show your audience how you're celebrating this season.
November email subject line best practices to keep in mind
For your emails to be a success, your subject line must provide a striking first impression. 47% of recipients decide to open an email based on the subject line alone, so you'll want to get your subject line right on the first try.
Sadly, 16% of emails never actually make it into the inbox, and one in every five emails is not mobile-friendly. Therefore, taking a moment to double-check that your email information is correct and concise enough for a mobile inbox will save you from ending up in the junk folder.
Lastly, use your email copywriting as an opportunity to have fun and be creative. For example, emails subject lines with personalization or emojis have a higher open rate than those that don't. Allow your email subject line to display the value of your business with a touch of unique flair.
November email subject lines for services
E-commerce and product-based brands are known to scramble for sales this time of year. However, service-based businesses should also have the holiday months on their marketing radar. So, to kick off our November email subject line bonanza, let's dig into some email subject lines for services:
Snow Already?! We'll Be There When It Hits.
Tired of the Holiday Scramble? We Can Help.
Casey, An Early Gift for You!
Winter Low-Lights Are In: 20% Your Next Color Treatment
Alex, Get $15 Off Your Next Inspection
Get That Project Done Before the Holidays!
Freeze the Turkey, Not Your Pipes. Call Jack's Plumbing
Book Your Next Cleanup in Advance & Save at Terry's Landscaping
Electric Bill Through the Roof? We Can Help.
Relax Before Holiday Craziness at Envious Massage
Cleaning Up for Visitors? Stop By Tom's Laundry
November=Snowvember! Book Your Plows in Advance
Unwanted Guests? Call Derry Pest Control
Reserve Your Leaf Cleanup Kit Before It's Too Late!
Best Part of Fall? Cute Autumn Nails Done at Melville Salon.
Skip Holiday Stress. Call Honey's Catering Now!
We Miss You! Appointment Slots Now Extended
.. Secret November Offers Are Here

November email subject lines for sales
You don't have to wait until the end of November to boost product sales, here are some email subject lines for sales to last you the whole month:
Wallet Gone Cold? These Deals Can Help.
Maria, A Special Offer for You Inside.
Going, Going, Gone! Grab Yours Before It Sells Out.
Joe, A November Discount Code Only Valid for a Limited Time
Use This at Checkout for a November Deal
Tamika, a Coupon for You Valid Through 11/30
Do This at Checkout for an Extra 30% Off
Fall Flavors Are Selling Out Fast at Pam's Bakery!
Low Prices All November Long!
Don't Wait for Black Friday. Sales Are Happening Now!
Remember November! Sales All Month Long
November Black Fiveday email subject line ideas
Many think that November comes and goes with just one major holiday: Thanksgiving. However, from Black Friday to Cyber Monday, Thanksgiving week has turned into a multi-day ordeal: Black Fiveday. Here is our breakdown of email subject line ideas for all the November holidays:
Email subject lines for Thanksgiving Eve
Many like to start celebrations early, and your business should too with these Thanksgiving Eve email subject lines:
A Thanksgiving Eve Deal = Best Decision You'll Make All Night
Not Just Family, Friends Too! Referral Discount Wednesday Only
Elise, Get 25% Off This Wednesday Only
Going Down Memory Lane? Bring This.
.. We "Accidentally" Dropped Our Deals Early
Sal's Taxi Running Extending Hours Tonight Only
Thanksgiving Eve! Reunite at Paul's Bar
Meeting Up with Old Friends? Get a Free Beer on Us!
Drinksgiving at Prairie Brew Co.
Email subject lines for Thanksgiving
You may decide to take Thanksgiving off from business matters. However, if you choose to schedule an email send on November's big day, here are some subject line ideas to boost your Thanksgiving marketing efforts:
Gobble Up Our Special Offer!
Cook Up Savings with Us
Pre-order Holiday Pies at Jam's Bakery
Happy Thanksgiving from Our Family to Yours
Julie, We're Thankful for YOU This Year.
Just Want to Say Thanks…
Cam, How Can We Thank You?!
Pour Some Gravy Out for Us Today
Forgetting Something? Our Thanksgiving Checklist
We Want to Share Our Traditions with You
A Thank You Note from Us To YOU
Sunnyside Insurance Thanks Its Employees
We Want to Say Thank You to YOU
Our Way of Saying Thanks…
Ramsay, A Gift for You to Say Thanks
Food + Family + Football = A Happy Thanksgiving
Happy Thanksgiving From [your business]
Email subject lines for Black Friday
Even if you're not a retail business, you can still reap the benefits of Black Friday with these email subject lines:
Buy Now! Black Friday Deals.
Black Friday Only: 50% Off!
Stuffed, Thankful, & Ready to Shop!
Hooray, The Holidays Are Here! Shop Now
Carrie, Your Black Friday Discount Code
Merry & Bright: Shop Black Friday Tonight
What to Buy on Black Friday (It's Not What You Think)
Black Fiveday: Making the Most of The Week
Black Friday Shopping TOO Much? Super Storage R Us
Holiday Gifts Already Bought = Black Friday Bliss
Wishing You a Blissful Black Friday
Bleak Black Friday? We Can Help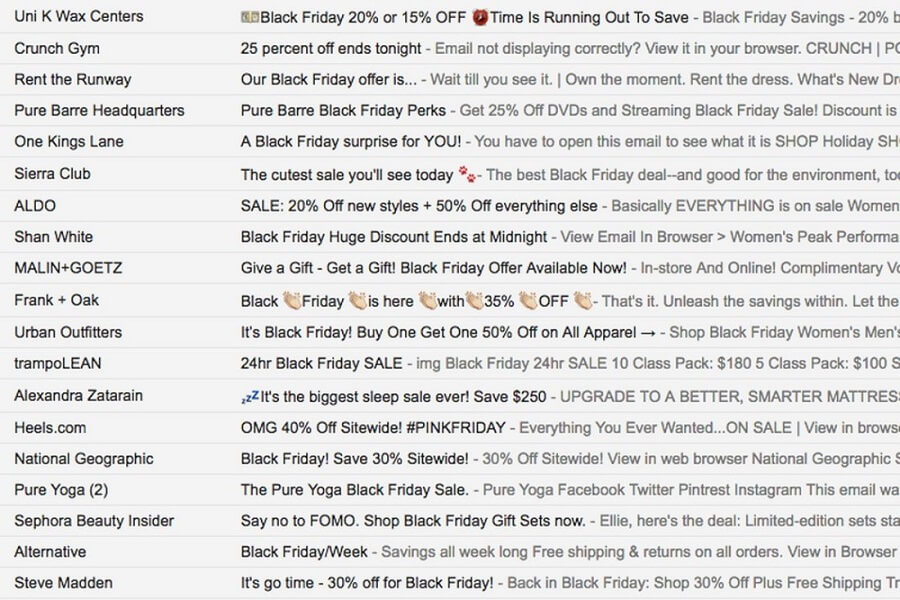 Email subject lines for Small Business Saturday
Calling all small businesses! This is your day to shine. Be sure that you do with these Small Business Saturday email subject line ideas:
Henry, Support Small Businesses This Saturday.
Be Thankful. Be Grateful. Shop Local.
Don't Wait! Shop Local Now
Big Savings from Small Businesses This Saturday
Kristi, Shop Local This Saturday.
James, Small Businesses Are Counting On You!
Celebrate Small Business Saturday With Us
Support Your Favorite Local Business!
We're Glad to Be a Part of Your Community.
Thanks For Your Support, Hannah.

Email subject lines for Cyber Monday
Whether you're an e-commerce business, a service-based startup, or a brick-and-mortar store, you can engage with your audience on Cyber Monday with these email subject lines:
Your Cyber Monday Deal is Just 1 Click Away!
Tony, Your Cyber Monday Code is Here!
Miss Out on Black Friday? Shop Cyber Monday
Cyber Monday…In-Store?
Get Cyber Monday Discounts In-Store & Online
Click, Click, Hooray! Shop Cyber Monday Now
Where We're Shopping This Cyber Monday.
How To Schedule Cyber Monday into Your Day
Polly, Celebrate Cyber Monday With Us!
Even more November holiday email subject line ideas
November holiday marketing doesn't just stop at Black Fiveday. Get creative and add a twist to your email strategy with these other November holiday subject lines:
What We're Reading When We're Cooped Up (National Authors' Day, November 1)
Planning + Execution=A Financial Portfolio Sandwich (Sandwich Day, November 3)
Tate's Photo & Video: Veteran Family Photos For Free (World Freedom Day, November 9)
Forgetting Something? (Forget-Me-Not Day, November 10)
How Forest Senior Living Thanks Its Caregivers (Caregiver Appreciation Day, November 13)
Be Kind: A Story of How We Started (World Kindness Day, November 13)
Kristi's Butcher & Deli is Going Green! (America Recycles Day, November 15)
How We Can Bring You Peace & Serenity This Season (World Peace Day, November 17)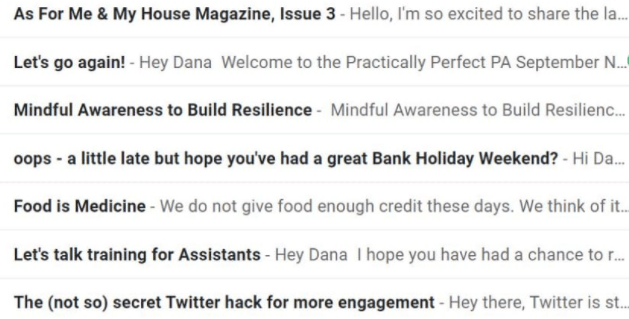 November newsletter subject line ideas
An email newsletter is especially important for small businesses this time of year because they help you to interact with your audience during a busy time. Stand out from big brands with these November newsletter subject line ideas:
Our Holiday Tips You Won't Want to Miss
Winter is Coming! Are You Prepared?
That's a Wrap! Our Company's Fall Highlights
Wait! Did You Complete Our Fall Check List?
What to Do Before 2021 is Over
5 Ways We Can Help You By 2022
7 Tips to Be a Holiday Pro This Year
Thanksgiving Recipe Ideas, Planning Sheets, & More!
Fast-track your year-end goals with these November email subject lines
We proved today that you don't have to wait for the holidays to start kicking your revenue up a notch. With 2022 right around the corner, squeeze in all you can with these November subject line ideas. Regardless of your business type, there are email subject lines that can work for your November marketing plan. When it comes to planning your email marketing strategy, don't forget to remember November!